This past weekend we joined the Jersey Shore Festival in Seaside Heights, NJ for three days of live entertainment, amazing food, and a great cause.
Of course we enjoyed the Tai Chi lessons, Yoga on the beach, bmx and skate show, live music, surf lessons, and our friends at the Pros vs. Heroes football game. However, Coastal went to the Jersey Shore Festival with an even bigger purpose…to give away a home.
Modular Home in NJ Built at Jersey Shore Festival and Given to a Family In Need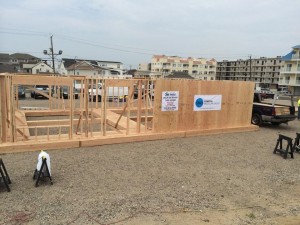 Each morning the festival kicked off with our collaboration with Northern Ocean Habitat for Humanity. Together, we devised to get the community involved in order to build a modular home completely by volunteers. Learn more about what usually goes in building a modular home here.
The 1,000-square-foot modular home was built on steel beams in a parking lot at 1415 Ocean Terrace. After the build is complete, it will be moved to 60 First Ave. at Berkeley's Manitou Park. South Tom's River township purchased the home site using money from its affordable housing trust fund. Our three bedroom, one bathroom, energy efficient modular home will join three other Habitat for Humanity built homes on this site.
This is not the first time Coastal Modular Group has donated its time and more to make sure Jersey residents get back into a high quality modular home. you might remember we gave away $25,000 toward a new home to a Hurricane Sandy victim.
If you are interested in working with Coastal on philanthropic efforts, please contact us here.