We known you care about the aesthetics of your modular home in New Jersey, but there are some other important issues to think about. Health hazards and flooding should be your main concern because what is the point of owning your dream home if you can't enjoy it.
Flooding & Health Hazards You Should Consider When Building a Home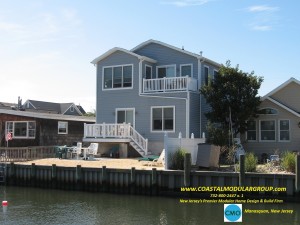 One of the biggest issues with building a modular home in NJ is flooding, especially after Hurricane Sandy. If you live in a high flood area, storms like Sandy can completely wipe out your home, and if you aren't forewarned and evacuated you are personally at risk. We live in NJ so we do get seasonal hurricanes, snow storms, and more, so you have to be ready for this.
Flooding also has another health hazard, mold. Even if you just live in a damper area like along the shore, mold can be a huge issue. Black mold can cause allergic reactions, asthma attacks, and much worse. Flood plains will also effect your insurance. If you live in a flood plain you will be required to get flood insurance, but if you just live by one you may not need it at all. This insurance will protect you and your home.
Some other hazards you should consider are lead paint (if you are buying a home rather than building a new one), environmental hazards like the facilities you live by (you may not want to live by the town garbage dump), and, although they may not threaten your health when in tact, power lines may be off putting to some if they happen to fall.
These are just some of the hazards you will want to consider when building a modular home in NJ. If you have any other questions please call Coastal Modular Group at (732) 800-2447 or visit http://coastalmodulargroup.com/contact.php.