For over two months Coastal Modular Group ran a contest that aimed to help one lucky person better their situation after Hurricane Sandy. We decided to giveaway $25,000 towards one of our NJ modular homes. Everyone had an equal chance to enter through our social media sharing process, and we are happy to have given many participants the chance to win.
The Winner of Our NJ Modular Home Contest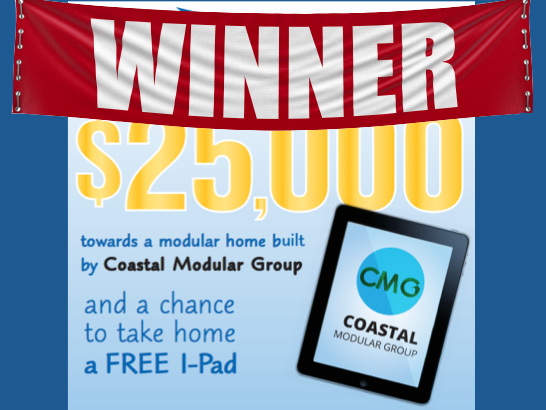 On June 29th, the drawing was official and Liz Perricone of Union Beach, NJ won the contest. We have been looking forward to meeting with her to discuss the details of her new home. Liz will benefit from our building process that allows for thorough design of a  custom modular home in NJ. Additionally, on Saturday, July 20th NJ News 12 will join us as we congratulate Liz in person.
Union Beach was hit very hard by Hurricane Sandy, and we are happy someone so deserving at Liz will benefit from a our giveaway. Recently, we featured Memorial School in Union Beach on our blog, and how the reopening of the school instilled a sense of normalcy. We hope to help Liz regain a sense of normalcy with the $25,000 toward her new home.
Our designers are going to sit with Liz and allow her to use photographs, sketches, and whatever else she likes to build her dream home. We will then make a 3D rendering of the home where she can take a virtual tour of her design.
Once again, we  would like to congratulate Liz on winning out giveaway, and we look forward to meeting with her on Saturday.