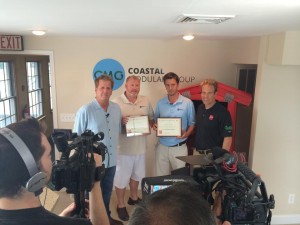 Community leaders should always be setting the best example. This is why, as a top builder of modular homes in NJ, Coastal Modular Group is dedicated to eco-friendly construction. We strongly believe our building process should not only be be bettering your living conditions, but also preserving the environment as much as possible. This mission has recently garnered us recognition by Eco Building Products as Coastal Modular Group has become a Certified Eco Defensive Builder.
Green Modular Homes NJ Residence Will Be Proud and Safe to Live In
What does it mean to be a Certified Eco Defensive Builder? Eco Building Products recently launched the Eco Defensive Program in order to better educate licensed home builders especially after Hurricane Sandy. These builders are educated on how to enhance traditional building processes in order to defend against rising tides, high winds, fires, bugs, rotting, and seismic activity. Of course for of our hard work, Coastal Modular Group received a signed & sealed diploma.
From the beginning of our NJ modular home company, our goal has been to help Hurricane Sandy victims. We were tired of seeing them get taken advantage of by companies outside of NJ that never finished the job and wasted precious time and money. You should not be homeless, and we are here to make sure you are back in a better built and affordable home.
Eco Building Products doesn't just focus on educating builders, but also helping reduce impact on the environment. Coastal Modular Group has a similar stance as we build green modular homes in NJ. This environmental responsibility includes our resource efficiency to reduce carbon footprint and your new home build which will reduce heating, cooling, and other utility costs. You can even qualifying for green building rebates and mortgages, and an increased home value through green certification.
We would like to thank Eco Building Products for allowing us to take their certification course. It is an honor to work along a company that is so dedicated to better building. If you would like to learn more about the high standards of our NJ modular homes, contact Coastal Modular Group.