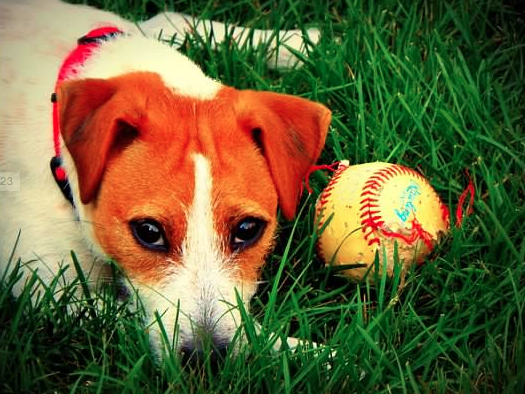 For so many people their pets are their family, and Coastal Modular Group wants to make sure that every member of your family is considered when designing your home.  If you have pet-friendly ideas that CMG can help you incorporate into your custom modular home design, you are encouraged to bring them to your design meetings.  Check out some of the ideas below to help make your new home pet-friendly…
Fencing
Proper fencing with a locked gate is essential if you have pets, especially dogs.  You want to ensure that when your fence is installed there are no gaps where your furry friend can sneak out.  Having a gate that locks is important for many reasons, but when you have a pet you do not want someone accidentally opening your gate while your pet is loose in the yard… depending on your pet that accident could lead to hours of fun chasing your pet through the neighborhood.  If you have a pet that is a digger and you are concerned about them burrowing under the fence, be sure to discuss that with your fence contractor to see if they have any solutions they can recommend.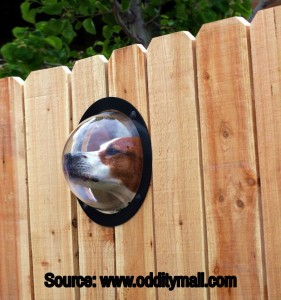 Pet Doors
Pet doors are an amazing feature to install in a home if you have a fenced backyard and want your pet to have the freedom of going in and out during the day.  Pet doors can be positioned several ways whether you need it in a storm door, sliding patio door or want it simply installed in an exterior wall of your home.  The doors can be as uncomplicated as a flap that allows your pet to go in and out, or you can install models that have special collars that recognize your pet and allow them to pass through the door.  See some examples of this feature below.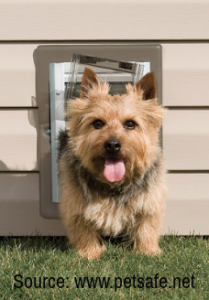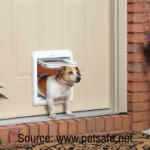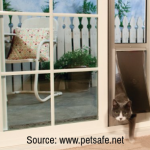 Dog Run/Trolley
Dog runs are a great feature for your backyard if you are trying to maintain a level of separation.  If the run is set-up correctly based on your dog's size, it will allow them ample room to run and play in a contained area without tearing up flower beds.  Having a designated area for your dog also makes for quick, efficient clean up.  A trolley is simple and cheap alternative to building a dog run.  As seen in the photo below the trolley line allows your dog to run as far as you allow while still keeping them away from areas of concern.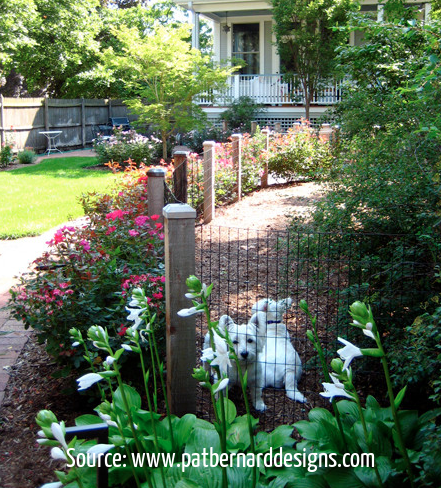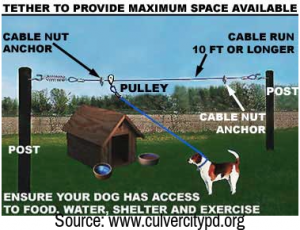 Pet Washing Station
Giving your pet a bath can sometimes be a real chore depending on how your bathrooms are designed.  Instead of considering how to bathe Fido in your walk-in marble shower or your pristine soaking tub, maybe having a designated pet washing station would work best.  Common areas to place these washing stations are in the garage or in the laundry room, but it could even be incorporated outside (seasonal use only).  All you need is access to a water source and a drain, and you can customize it to meet you and your pet's needs.  If you have small pets you could elevate the washing station, your back and knees will thank you.  It is recommended to install a handheld sprayer which will make bath time so much easier.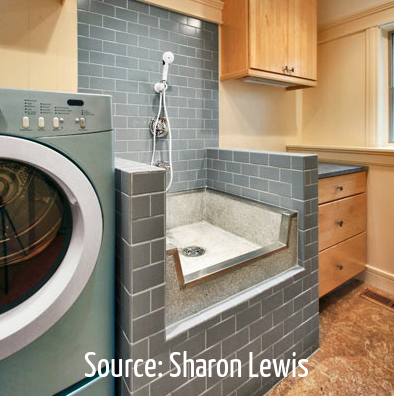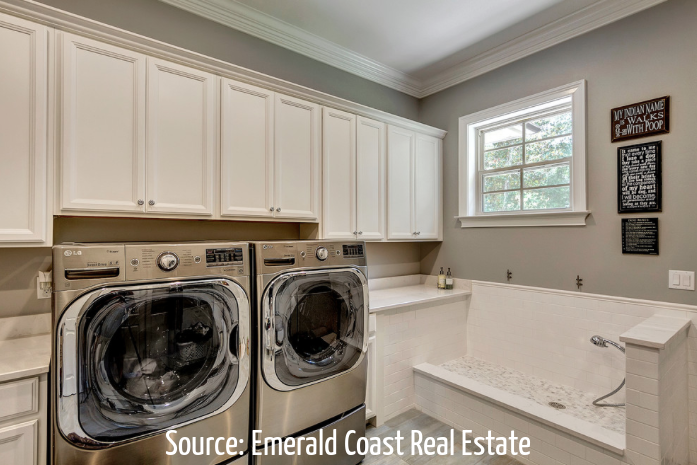 Custom Built-ins
Have you ever tripped over your pet's food dish in the middle of the kitchen?  Not really sure how your pet's crate fits in with your home's design aesthetic?  Custom built-in solutions can help you create a seamless space where everything has a place.  One of the pictures below is a creative solution to pet food bowls scattered about the kitchen done by incorporating the feeding station into your kitchen's cabinetry.  If you do not want to commit to integrating the feeding station into your cabinetry, you can discuss a separate cabinet solution with your cabinet maker that will match your design.  There are many ways to disguise your pet's crate so that blends with your home's interior.  The picture below will give you an idea as to how you can integrate your pet's crate/bed.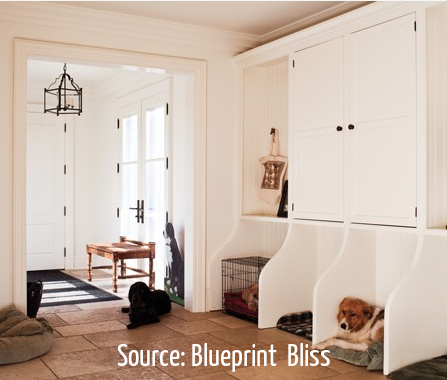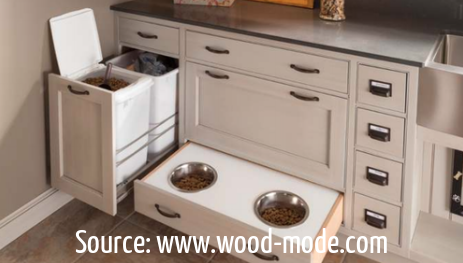 Pet Gates
If it has been awhile since you have researched pet gates for your home, you might be surprised at all of the visually appealing options that are now on the market.  Depending on your pet you might need one that can be permanently fixed to the wall with a gate to pass through.  There are others that can be set up around the house and then packed away until needed later.  These would maybe be ideal during dinner parties to create boundaries and keep your pets from getting underfoot.  Check out some of the examples below.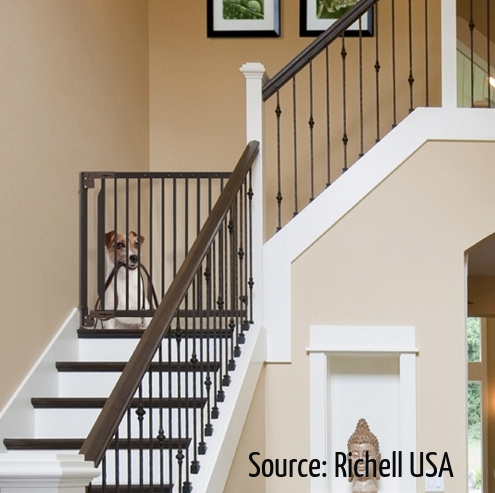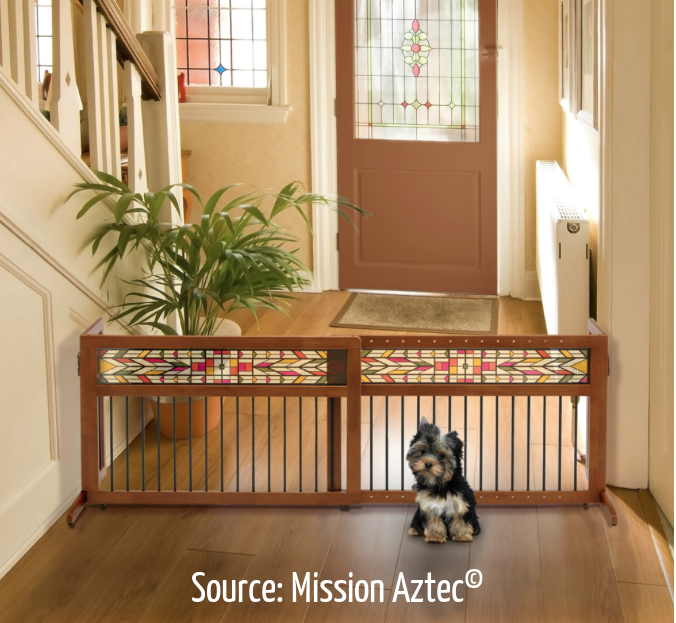 Senior Pets
As our pets age their joints can make once normal tasks very difficult, like jumping on the sofa or bed.  There are small adjustments you can make within your home to make it senior pet-friendly.  Most joint injuries in senior pets are caused by jumping, so having a ramp or small steps to assist them getting on and off furniture can make a huge difference.  There are ramps that are collapsible and can be tucked under the sofa/bed or set in the closet when they are not needed.  Also, be mindful of large runs or stairs which can be detrimental to your senior pet.  If you have a multi-story home, it could be best for your pet to try to keep them contained on one level for most of the day to ease joint discomfort.
Coastal Modular Group wants every member of your family, even the furry four-legged ones, to feel completely comfortable and at ease in their new home.  Because CMG custom builds every home we encourage you to discuss any special details that will make your dream home that much more special to you.  Be sure to visit CMG's Pinterest page to check out our boards for detail inspiration, and as always feel free to contact us at (732) 800-2447 if you have any questions about building your next home with Coastal Modular Group.