Some people squawked and complained about how ugly it was going to look with all of our houses on beams. The designers at Coastal Modular Group understand our customers don't want something like the beams that have to raise their homes to take away from the gorgeous new design they have been dreaming of. So what can we do? Here is our solution to add to the raised design of modular homes in NJ.
Unfortunately, you can't have living quarters at this level because that completely takes away from to point of the beams in the first place. However, this spot is not a complete waste. Your base flood elevation (BFE) may be just a few feet or it can be quite high depending on where you live, but you can always go higher than the bare minimum, which gives you more to work with.
Is Your NJ Modular Home On Stilts: Here Is What You Can Do
Our first suggestion definitely needs the extra height. Don't have space for a garage on the the side of the house? No problem, you now have a multi-car garage the width and length of your whole house. Whether you decide to close this part in is up to you, but your car will fit right under your NJ modular home and stay out of most of the elements (wind can clearly be a deciding factor).
Don't need all that garage space? That just adds more options! You can use a section as a covered patio. This is a great option if you don't like being cooped up inside all day, but can't handle hours in the sun. Remember, it can't be a permanent living space, but you are welcome to enjoy sitting in the shade.
Probably our most cheerful idea is a garden. Yes, we know you will immediately think all that shade won't let me have a proper garden, but you are wrong. There are plenty of flowers and other plants that don't need much sunlight. Check out these Top 10 Low-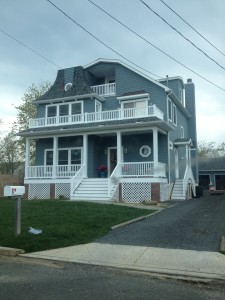 light Plants, and also remember, you can place other plants all around the exterior of the home and even have gorgeous hanging arrangements around the entire bottom of the house.
Of course, you can use this area for storage, but you have to remember the risk of flooding is why you had to raise your home to being with. These are just a few suggestions to look on the brighter side of having to meet base flood elevation requirements. You can also just raise your home and keep it a subtle as possible. All of these choices are up to you. For more information on designing modular homes in NJ, call Coastal Modular Group today at (732) 800-2447.