Coastal Modular Group collaborates with and uses many different companies to help enhance our modular homes. For instance, after Hurricane Sandy hit, we made sure we had partners with storm proof windows to ensure our clients were safe. Our goal is to ensure we design NJ modular homes that you will love whether you are seeking alluring aesthetics or functional features.
Today we want to update you on our post from a few weeks ago entitled "Modular Homes NJ Residents Love: Beach Haven West." In the last photo in the blog post's set, you can see a hint of the white railing, but there is much more to it than that. See below for the railing and pillars by AZEK Building Products.
AZEK Building Products On NJ Modular Homes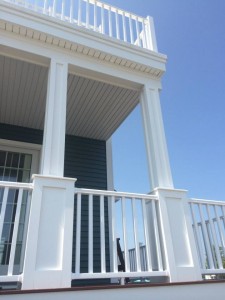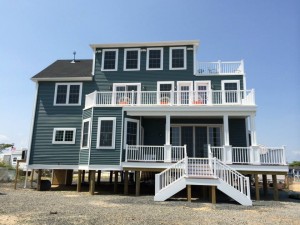 This decking is absolutely gorgeous! Even as we built this modular home, we impressed ourselves with how well the white, brown, and green/blue truly pulled together. Some may think that the house color and deck floor will be good at hiding dirt and the white will be too hard to keep clean. AZEK Building Products are made of extremely high quality materials, and very easy to clean. We could get heavy into the products, but this is just to show you how impeccable a modular home can be when made with the right products.
If you need any certain type of material for your next home, please feel free to contact our NJ modular home company today.