We are used to seeing the outlets in our homes with either the old style two slits (which we highly recommend upgrading if you have not done so) and or the one that looks like a a face saying "oh" (don't even pretend you don't think they look like faces). However, as USB ports stay the primary method for connecting devices like MP3 players or smart phones to power sources, shouldn't we upgrade the outlets in our NJ modular homes too?
Think about the charger for your cell phone or smartphone? These days they come in two parts, the wire and the A/C adaptor. Soon USB ports will be incorporated into every home and we will have no need for the little box adaptor that we keep misplacing.
Would You Like USB Outlets in Your Home?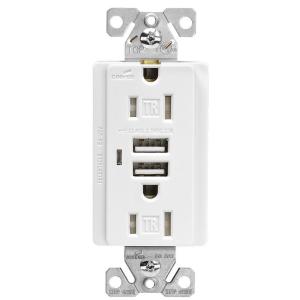 Don't believe us? Well, have you been to Home Depot or Lowes lately? If you head down their aisle of wall outlets, you will see not just one design incorporating a USB port, but several.
We bet some of you didn't even know these were out there, and will be amazed these outlets even come in different colors. The outlet to the right is one of our favorite designs because you get two A/C outlets and two USB outlets. You can vacuum as you make cocktails in your blender, while texting your friends as you listen to your favorite playlist…and each device could be charging in one spot!
It may seem odd at first to see those same outlets you grew up with changing, but now is the best time to incorporate them if you plan on using Coastal Modular Group to build your modular home in New Jersey.