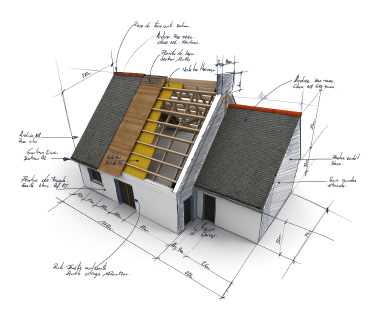 While the budget is a top concern for almost every client, there are a few seemingly invisible things to consider when designing your home that will not only save you money down the line, but also add to your home's comfort and efficiency for years to come.  When you meet with Coastal Modular Group to develop your custom modular home design our goal is to use our industry leading expertise to meet your individual needs the best we can within every project's budget.
1. Quality windows & exterior doors
One of the easiest ways to reduce energy costs is investing in quality windows and exterior doors.  To put these items in perspective vinyl windows have a minimum life expectancy of 20 years, and exterior fiberglass doors could potentially last your home's lifetime.  These are areas that will save you each month when you open your electric bill, especially during winter months.  Also, when deciding on windows you might also want to consider their ease of cleaning/function.
Fun fact: Understanding the difference between "single hung" and "double hung"… with single hung windows only the lower pane of the window tilts in for easy cleaning while the upper is fixed in place, but with double hung both the upper and lower pane are operable and both tilt in for ease of cleaning.
Single Hung vs. Double Hung
PHOTO: Bonnechere Valley Windows
2. HVAC
Here at the Jersey Shore we have hot summers and cold winters, so the average HVAC system will run almost all year long providing A/C in the summer months and heat in the winter months.  Because of how much you will depend on this feature in your home, this is not the area where you want to cut corners.  Under perfect circumstances with proper maintenance the components of your HVAC system are expected to last 15-20 years.  Due to the initial cost of HVAC systems you want to be sure to pick a manufacturer that has a strong reputation in the industry.  Also, be sure to research the efficiency of your system to maximize any available rebates in the short term and monthly utility cost savings in the long term.
3. Lighting
While lighting fixtures can be changed fairly simply down the line, the position of your lighting is a different story.  It is important to take the time during the design process to really consider your lighting and placement.  The positioning is crucial because once your modular home is manufactured the set joists cannot be moved, which means we might not be able to install a recessed light centered over your sink after the fact.  We will work with you on all these fine details to ensure nothing is overlooked, and with the help of our 3D design software we will be able to bring your visions to life.
4. Flooring
This might seem like a good place initially to save some money during the design process, but cheap flooring can quickly turn into a sad situation.  We will help you during the design process to understand there is a difference between affordable flooring options and cheap flooring.  For example, your entryway, stairwell(s) and main living areas are considered "high traffic" areas, and as such will see constant foot traffic.  For these areas of your home we will help you determine a durable flooring solution that works with your budget.  See some questions below that can help us determine the proper flooring solutions for home:
If you have pets, what rooms will they have access to?
Which rooms do you think food/beverage consumption will be probable?
Are there any rooms where slip-resistance is a major concern?
Will any rooms be designated as play rooms for children?
5. Outlets
It is very easy to overlook the small design detail of outlets.  However, they are the small detail that can make your life much easier if properly mapped out during your design.
Kitchen:

If you utilize several countertop appliances throughout the day (coffee pot, blender, can opener, toaster oven, etc) you might consider having a few strategically placed outlets along your countertop.

Garage:

If your garage is used for any specific purpose (vehicle maintenance, wood working, etc) you should decide where you would like to strategically place outlets to make the best use of the space.

Bedrooms:

Where will the bed be positioned?  Will there be a television?  Deciding the room layout will help you determine where to put outlets and how many.

Bathrooms:

Does anyone use several electric items to get ready (blow dryer, flat iron, curling iron, etc)?  Make the morning dash less stressful by having enough outlets.

Home Office:

No one likes cords running all over, so be mindful of the office layout and how many outlets will be needed to make the best use of the space.  Also, even though so many of our electronics are bluetooth/wifi ready most home offices would benefit from an ethernet port for hardline internet use.

Living Room:

Probably the most utilized room in most of our homes, and also the room that seems like it could always use another outlet.  Placement is key… is the television going to go over the fireplace mantle?  How many additional items need an outlet (cable box, gaming consoles, blue ray/dvd player, etc)?  Most people hate the sight of cords so placing outlets where they will be needed is key.
Our goal during the design process is to help you build the home of your dreams.  All the details outlined above will seem invisible once the house is built and everything is moved in, but that is the idea.  We do not want you standing in your kitchen wishing the lighting was better or to reach down to plug in your phone while laying in bed only to notice the outlet is out of reach.  These invisible details are the things that will make your day to day life just a little more convenient.  Give us a call at Coastal Modular Group to discuss how we can help you design your custom dream home (732) 800-2447.