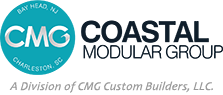 Building
Green
Eco Friendly Modular Homes NJ Residents Can Feel Great About
About 18% of the United States greenhouse gas emissions are generated from the energy used in homes across the country. At Coastal Modular Group, we feel it is our responsibility to build smarter and more energy efficient green modular homes in New Jersey. There are several factors we must consider when building, and we must always remain conscientious of the impact we will leave on future generations. You can learn more about the advantages of our modular homes but the page you are currently on is solely dedicated to our eco friendly efforts.
Building green in today's home construction industry is all about incorporating environmental considerations and resource efficiency in key steps of the building process and land development process, thus minimizing the overall environmental impact or carbon footprint. We have teamed with Eco Building Products in order to deliver more eco friendly modular homes that also defend against rising tides, high winds, fires, bugs, rotting, and seismic activity. Read about our Eco Certification here.
By using United States Environmental Protection Agency's (EPA) ENERGY STAR programs and products, we help preserve the environment. You benefit by using these products because they are designed to save consumers money by using less energy. Coastal Modular Group meets Energy Star Standards, and we are dedicated to building affordable, green, modular homes in New Jersey that consume significantly less energy and help to preserve the environment.
There are many benefits for homeowners who want to go green in their new home or remodeling project. Improved health, durability and efficiency of the home, as well as reduced heating, cooling and utility costs are all results of our modular home designs. More benefits include qualifying for green building rebates and mortgages, and an increased home value through green certification that stays with the home.
Our standard homes, even without opting for a green certification, are built at much higher levels of energy efficiency than traditional homes. They are sealed tighter with superior and higher levels of quality insulation. The tighter construction also prevents outside allergens, pollen and mold from entering your home.
If you are interested in hearing more about building green in New Jersey with Coastal Modular Group, call us at (732) 800-2447.